Heavy menstrual bleeding (HMB)
Heavy menstrual bleeding (HMB) is a significant health problem in premenopausal women; it can reduce their quality of life and cause anaemia.1
One third of all women report heavy menstrual bleeding at some point in their lives, and in Western countries about 5 % of reproductive-aged women seek treatment for it annually.2
In over 50% of affected women no cause is found and the diagnosis of Dysfunctional Uterine Bleeding (DUB) is made. 3
Such statements and a lot of similar assertions are frequently reported in the literature available. They reveal how often you must be faced with patients complaining of bleeding disorders.
The classic definition of heavy menstrual bleeding, also called menorrhagia, is blood loss exceeding 80 ml per menstrual cycle, but this criteria is primarily used in research settings. In your practice, when a patient reports her periods to be so heavy or so long that it is interfering with her plans and activities, commonly causing stress and embarrassing incidents, she needs to be offered a solution.
You are of course aware that HMB is a common problem for women, which can seriously affect their quality of life. Being directly in contact with patients enduring bleeding disorders you know how to establish a diagnosis for each of your patients affected, then provide your patients with recommendations based on their medical conditions as well as personal expectations. You will lead your patient to the appropriate treatment and, in most cases, you will perform it. With Cavaterm™ Veldana Medical SA offers you a safe and easy to use solution for your patients suffering from dysfunctional uterine bleeding.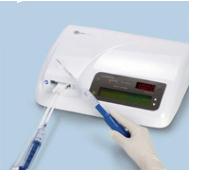 This second generation endometrial ablation technique consists of an adjustable, flexible silicone balloon catheter and a Cavabox.
The treatment combines heat and pressure during 10 minutes to irreversibly coagulate the endometrium and underlying myometrium to a depth of 5-8 mm.
Specific features are built in the system to ensure safety, efficacy and comfort.
The Cavaterm™ system has been successfully used since 1993. It is proven to be safe, efficient and easy to use. Over the past years further product developments based on users feedback were implemented for an optimal evolution of the system.
Many thousands of patients have been treated successfully with the Cavaterm™ system. Clinical studies report average success and satisfaction rates exceeding 90%, which remain stable throughout the years. 1, 2, 3
Indication & Contraindications
Indication
The Cavaterm™ system is indicated to ablate the endometrial lining of the uterus in premenopausal women with heavy menstrual bleeding due to benign causes for whom childbearing is complete.
Contraindications
Women presenting conditions listed below require examination, precautions and/or treatment before they can be treated with Cavaterm
Undiagnosed uterine bleeding
Active infection of the internal and external genitalia
Active urinary tract infection
A Cavaterm™ treatment is strictly contra-indicated for women presenting the following conditions
Any premalignant or malignant condition by histology, e.g. adenomatous hyperplasia
Any anatomical or pathological condition significantly deforming the uterine cavity and thus preventing the balloon from laying uniformly on the endometrium
Any condition associated with a myometrio thickness less than 12 mm
Any condition leading to uterine wall weakness regardless of myometrio thickness
Any recent uterine damage or trauma
Pregnancy or any desire to become pregnant in the future
Uterine cavity length less than 4 cm or more than 10 cm (from the isthmus to the fundus)
Cervical canal length more than 6 cm
Insert the balloon catheter into the uterine cavity until the fundus is reached.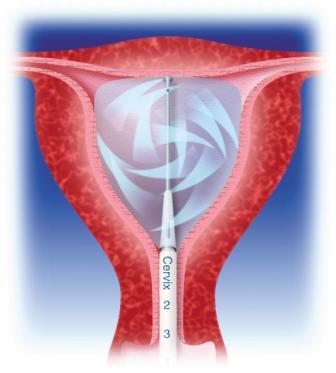 Fill the balloon with glucose 5% solution until a stabilized pressure between 230-240 mmHg is reached and press the start key. The glucose is then circulated and automatically heated up to the target temperature of 78°C which is sufficient to irreversibly coagulate the endometrial lining.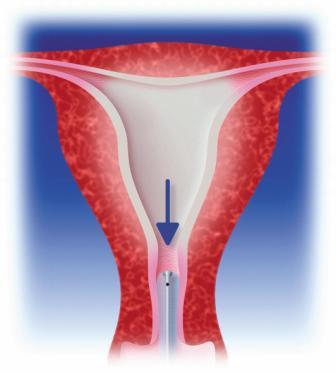 At the end of the 10 minutes treatment time, the system stops automatically. Press the stop key, deflate the balloon by retrieving the fluid and remove the catheter from the uterus.
Before performing the Cavaterm™ treatment please carefully read the instructions for use. The Cavaterm™ procedure requires a few simple steps.
Benefits for you and your patients
Choosing the Cavaterm™ solution involves relevant advantages.
For you
You will benefit from a system equipped with unique features for optimized safety for your patient
The treatment safety and efficiency is well established with more than 15 years experience and thousands of patients successfully treated
Cavaterm™ is a "see one do one" procedure;  you will learn the technique quickly and easily
Cavaterm™ is indicated for most uterine cavity sizes and shapes
Proven features from the latest technologies will offer you and your patient the best chances for successful treatment outcome
You will be using a Swiss quality product
You will save time: the treatment cycle lasts 10 minutes and the whole procedure lasts less than half an hour
The treatment can be performed under local, spinal or light general anesthesia
The treatment can be performed as an outpatient procedure
The Cavaterm™ treatment can be performed at any time during your patient's menstrual cycle, and therefore scheduling conflicts are avoided
For your patient
Your patient will be offered a minimal invasive option; she will be thankful for the improved quality of life
Your patient will be given a permanent treatment
Your patient's hormonal balance will be preserved
Cavaterm™ will cause absolutely no feeling of mutilation / loss of feminity
Cavaterm™ does not cause post-operative hemorrhages
Post-operative infections are unlikely to happen
Your patient will be able to go back home a few hours after the treatment
Your patient will be back to her daily activities shortly
More than 90% of all patients are satisfied with the treatment
The Cavaterm™ system is equipped with specific features ensuring maximal safety and efficiency, as well as ease-of use.
Adjustable balloon length
The flexible and conforming silicone balloon is adjustable in length to provide the best internal cavity fit and protect the cervix and vagina from heat effects.

Soft-heating
The Soft-Heat™ elements are safe and performant heat providers thanks to their large surface area combined with the fast circulation of the fluid. The heating elements are self-regulated, semi-conductive and located in the catheter handle, outside the patient body. They automatically maintain the optimal treatment temperature during the treatment phase, safely avoiding the risk of overheating. The target temperature is 78°C.

Circulation
Fill the balloon with glucose 5% solution until a stabilized pressure between 230-240 mmHg is reached and press the start key. The glucose is then circulated and automatically heated up to the target temperature of 78°C which is sufficient to irreversibly coagulate the endometrial lining.[/caption]A device in the Cavabox generates vigorous forced circulation of the fluid through the heating elements and inside the balloon. This unique circulation system ensures an even temperature over the entire balloon surface and therefore allows a uniform heat treatment.
Pressure regulation
Maintaining a constant pressure of 230-240 mmHg ensures an optimal contact between the balloon surface and uterine tissue, ensuring an even heat penetration through the tissue. The Cavaterm™ Pressure Regulating-syringe allows easy and precise pressure adjustments at any time during the treatment cycle. In addition, the system is equipped with a dual overpressure safety system avoiding risks of overpressure.
Catheter insulation
Only the balloon surface reaches a temperature above 70° C. All other catheter parts, which are not in contact with the uterine cavity tissue, are insulated for optimal protection against heat.
Cavabox
The Cavabox is extremely easy to operate. Its use requires a few simple steps. In addition it is light-weight and compact for an easy transport and storage.
Treatment data storage
A chip located inside the catheter keeps a record of the treatment parameters which can be uesd for any further investigation.
References
1 Lethaby A, Hickey M, Garry R, Penninx J. Endometrial resection / ablation techniques for heavy menstrual bleeding. Cochrane Database of Systematic Reviews 2009, Issue 4. Art. No.: CD001501. DOI: 10.1002/14651858.CD001501.pub3)
2 Hurskainen R, Grenman S, Komi I, et al. Diagnosis and treatment of menorrhagia. Acta Obstet Gynecol Scand. 2007;86:749-757
3 Vessey M, Villard-MacKintosh L, McPherson K: The epidemiology of hysterectomy: Findings of a large cohort study. British Journal of Obstetrics and Gynaecology, 99:402-407, 1992
4 Hawe J.A., Phillips G., Chien P., Erian J. & Garry R. Cavaterm thermal balloon ablation for the treatment of menorrhagia. Br J Obstet Gynaecol 1999;Nov;106;11;1143-1148
5 Friberg B. & Ahlgren M. Thermal balloon endometrial destruction: the outcome of treatment of 117 women followed up for a maximum period of 4 years. Gynaecological Endoscopy 2000: 9:389-395
6 Mettler L. Long-term results in the treatment of menorrhagia and hypermenorrhea with a thermal balloon endometrial ablation technique. JSLS 2002 6;4;305-9